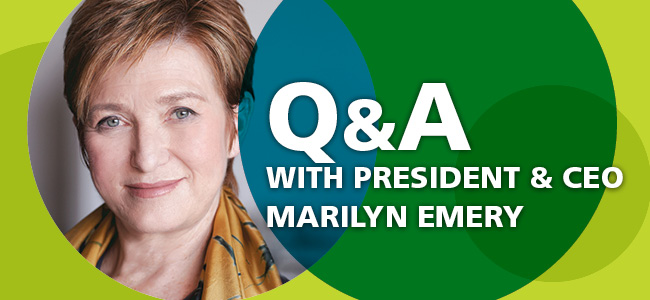 Marilyn Emery
After 11 years of leadership, President & CEO Marilyn Emery looks back on an enriching and transformative time
What makes you most proud of your WCH years?
There's so much at Women's to be proud of. I feel incredibly fortunate to have been part of solidifying WCH's place in Toronto's health sector and the hospital's drive to deliver innovative solutions for some of the most urgent issues facing our health system.
When we set out to rebuild Women's College Hospital, we spoke to over a thousand women and girls before we started designing the new building. We recognized that the faces and voices of the women of this city have changed and we needed to shape this hospital around their needs and their lives. We wanted to transform a hospital known for serving privileged women to a hospital that serves all women. What we learn about improving health for women is also applicable to improving health for everyone — 33 per cent of our patients are men.
I am also proud of how we solidified our brand. From a historical, hundred year-old hospital we transformed WCH into a bold, innovative brand that is revolutionizing the future of healthcare while retaining the values and intrepid, pioneering vision of our feminist founders. Women's is now recognized and respected as a unique hospital that is championing health equity and inventing new models of patient care. And most importantly, feedback from our patients and health sector partners backs up that reputation.
I am eternally grateful for having the opportunity to lead such an extraordinary organization and work with so many incredible people here.
I am eternally grateful for having the opportunity to lead such an extraordinary organization and work with so many incredible people here.
What do you feel have been some of the key accomplishments at WCH during your tenure?
In 2012, the launch of WCH Institute for Health system solutions and Virtual care (WIHV) was nothing more than an idea, and today it has $8 million in revenue and has been selected to spearhead Ontario's Centre of Excellence for Digital Health.
Women's College Research Institute (WCRI) has grown into one of Canada's top research institutes. Our researchers and scientists are changing the way health research is integrated into clinical practice and viewed through a gender lens, especially in the areas of women's cardiac health, post partum depression, women's cancers and treatment for victims of sexual assault and violence.
The launch of our Rapid Access Addiction Medicine (RAAM) Clinic where patients with addictions and substance use issues can access comprehensive, integrated care when they need it most — without a booked appointment or a physician referral. And we're not only delivering this service at WCH but have expanded this program so that there are now 12 RAAM clinics around the province.
We run Ontario's biggest Sexual Assault and Domestic Violence Care Centre, with clinical care available 24/7 with comprehensive services for women, men, and trans people who have experienced sexual assault and intimate partner violence. Our team is also mobile, seeing patients across the city's emergency departments at any time.
WCH is revolutionizing healthcare. How will it specifically impact the communities you serve, as well as healthcare in general?
Women's is creating an entirely new paradigm. We're a hospital like no other — we have no inpatient beds, so we like to say that we're a hospital designed to keep people out of hospital. We do this by creating innovative ways to deliver treatments, diagnosis and complex surgeries without the requirement for patients to be admitted to hospital. We then spread these new models of care to our health sector partners so that we can help improve the health system as a whole.
The WCH community is all about people. How important are your community partnerships?
We couldn't be who we are without our community and health sector partnerships. We rely on partners from the diverse communities we serve to keep us honest when it comes to reducing barriers to care and delivering services that work in the context of their lives. We know that in order to enhance health equity and improve access to care we need to look at the social determinants of health affecting our patients. That's the only way we'll be able to close the health gaps.
Our partnership with YWCA is delivering primary care services at the Elm Street residence to women who are struggling with significant substance-use issues and mental health concerns. The program ensures these marginalized and underserved women receive consistent comprehensive care in a safe, accessible environment.
The Toronto Birth Centre, established in Toronto's Regent Park community, is a partnership with Seventh Generation Midwives that allows women with low-risk pregnancies to give birth in a non-hospital community setting. It's a midwife-led centre that offers culturally integrated care and also supports the practice of Indigenous midwifery.
Our Crossroads Refugee health clinic works with refugee centres across the city to provide health services to refugees. The clinical team works with interpretive services so that individuals can receive care in a language they understand and the clinicians make time to orient newcomers to Canada and the country's healthcare system.
A vision of inclusivity and equity is central to your legacy. Why has this been such an important focus for you?
We have discovered that, from research and treatment options to access to services and programs, women are often overlooked and underserved because healthcare has traditionally not considered the impact of sex and gender differences. Our research shows that women's needs, including physiological differences, cultural challenges and life circumstances, are often not taken into consideration in the diagnoses, treatments and prescriptions that are provided to them. So WCH is committed to identifying and closing these health gaps that affect women and girls across multiple and complex areas — mental health, sexual assault and violence, addictions and substance use, women's cancers and cardiac health.
In both clinical and leadership roles, you've helped build a hospital unlike any other. What do you feel are the unique benefits to WCH that patients experience?
We have an extraordinary respect for patients – for their time, their need for information and their desire to be involved in their own care. So we place an emphasis on ensuring we have systems in place that work for patients, like carefully managing and monitoring wait times in our waiting rooms and creating a welcoming, safe and non-judgemental culture.
The other aspect that makes WCH unique, is that we maintain our long-standing focus of advancing women in medicine, in science, in research and in leadership. Our hospital executive team and our Board of Directors are made up mostly of women and this means that inclusion and diversity are deeply ingrained in our culture and focus. That is still very uncommon in public sector organizations and corporations today.
How is WCH positioned to support the healthcare sector and the communities you serve?
We have just launched our new five-year Strategic Plan — Healthcare Revolutionized. It outlines a bold and ambitious vision to revolutionize healthcare for a healthier and more equitable world. And within it are the plans for some of our most innovative initiatives yet – ambulatory joint replacement surgeries, a centre for sexual and reproductive health, a program for gender transition surgeries, a world leading centre for women's cancers and partnerships to strengthen Indigenous health.
The leadership at WCH is fully committed to steer the organization in achieving these goals and setting the pace for the future of healthcare. They will continue to confront a climate of gender and social inequities, to transform the delivery of care and to create models of technology enabled virtual care. WCH is great because of the people who are devoted to it and it's an incredibly compassionate, talented and driven group of people.
What advice would you give the future healthcare leaders in the city of Toronto?
Be unstoppable. As much as women's issues have progressed and healthcare has improved, there are still so many issues that keep emerging. We need to be vigilant and work tirelessly, to keep listening to the voices of patients and to continue developing disruptive innovations in research and clinical care, so that we can create a healthier world and close the health gaps for all.