Care, counsel and support for sexual assault and domestic violence
By: Liz Beddall
Within two minutes of being reached for an interview Sheila Macdonald, clinical manager of the Sexual Assault and Domestic Violence Care Centre (SA/DVCC) at Women's College Hospital (WCH), is forced to hang up the phone.
A victim has just arrived — one of approximately 700 such individuals the SA/DVCC staff will likely see this year. And so it goes with anyone who walks through the unit's doors — the staff of nurses and counselors see that the immediate care of people takes precedence over anything else.
"We don't have an emergency department," says Macdonald when she is free again to chat. "So this is a space where the nurse meets the victim directly at the door. We are their first contact.
"Our services are very focused on the person, and our immediate goal is to convey the message that, 'You are here now and you are safe'."
It's a message that has been at the core of the Centre's value system since 1984, when the unit at WCH was created as the first regional space of its kind in Ontario. While it was then devoted solely to sexual assault victims, the SA/DVCC has since expanded its mandate to include victims of domestic violence and has recently mobilized its delivery of care — expanding comprehensive services to all seven of Toronto's emergency departments.
"If the person shows up at another hospital, we travel there," she says, adding that the healthcare worker will be on the scene within one hour of the victim arriving at the emergency department. "The person doesn't have to first go to an emergency room and then travel to our hospital."
"We don't want to miss caring for the victims who in the past might have said, 'I don't want to go through all of this again. I'm just going to go home'," says Macdonald.
Shaniqwa, a survivor of a violent sexual assault, which occurred during her time as a university student, may have done just that had a member of the SA/DVCC's mobile team not made herself known as an ally in the emergency room. "I was very numb at the time," says Shaniqwa, who received follow up care from the Centre where a nurse offered her additional crisis support and further testing. "I had already faced victim-blaming and I didn't expect for them to be so welcoming given that society hadn't been welcoming to me."
Shaniqwa goes on to say that while she anticipated that the staff at the Centre might request she rehash her traumatic story and ask such questions as, "What were you wearing", and "how much did you drink," what she heard instead upon entering the hospital was, "How are you feeling" and "what can we do to support you."
"The way in which they approached the situation, their wording, the way they do their work and just giving me space to share my feelings," she says. "Made me feel safe and comfortable and gave me a place where I could take a pause from being hard on myself."
In the months and even the years following her assault, Shaniqwa says she has looked to the SA/DVCC and WCH as a constant backbone of support, knowing without doubt that follow up services and additional resources were always on offer if she was in need.
She adds that those powerful reinforcements have since given her the strength to become an outspoken advocate for proactive and equitable responses to sexual assault on Canadian campuses. It has also inspired her to organize an on-campus fundraiser to give back to those who continue to show her that they care.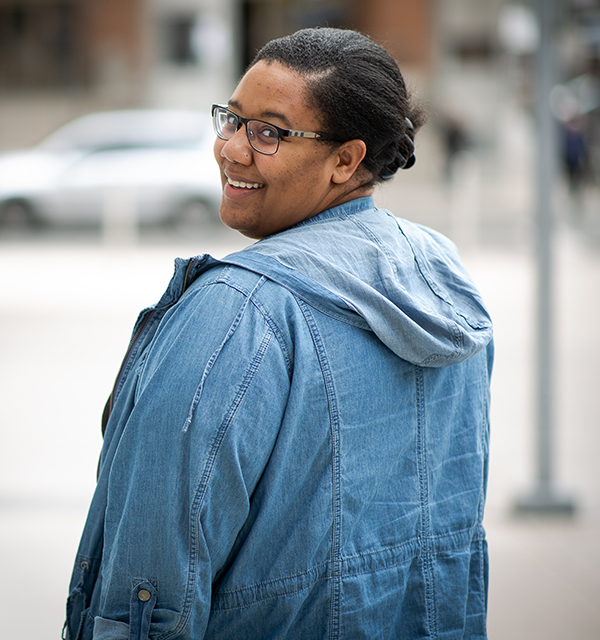 Shaniqwa
"We were able to raise $650 for Women's College," says Shaniqwa. "I can't repay everyone that was there for me during that time. But fundraising to support their work was the best way I could try to say thank you."
"Overall I would say that if Women's College hadn't been there my story would have likely been totally different," she adds.
"Overall I would say that if Women's College hadn't been there my story would have likely been totally different," she adds. "I wouldn't have been thinking that I mattered or that my life mattered if they weren't reminding me that it did."
There are other ways, says Macdonald, that the stories of those like Shaniqwa and other victims may have been markedly different in years past. She says that until recently, it was imperative that the SA/DVCC see victims within 72 hours of their assault for them to benefit from proper, post-assault DNA testing. Today, however, Macdonald points to technological advances in DNA test sensitivity allowing the Centre to expand to a 12-day timeframe for assessment.
While she also lists the Centre's offering of post-HIV-exposure prophylaxis to assault victims as a recent evolution in care, Macdonald says one aspect of the SA/DVCC that has remained steadfast since 1984 is the dedication of its staff and their commitment to non-judgmental support regardless of a victim's decisions.
"People are active participants in their care plan," says Macdonald. "So whether or not someone decides to report to the police, for example, that's their decision to make and not mine."
If the victim does, however, choose to pursue legal action, Macdonald points to a particularly important victory achieved via the SA/DVCC in developing nurses as expert witnesses in court.
"The Sexual Assault Nurse Examiner program began in 1995," says Macdonald, who also fills the role of provincial director for sexual assault and domestic violence treatment centres in Ontario. "Its specialized training provided for all nurses in sexual assault and domestic violence programs across the province, which has allowed them to be seen as experts within the legal system."
Speaking further to the provincial collaboration, Macdonald says that she is equally proud of the work that is being done in all 35 such centres now in operation in Ontario, the members of which she says are all committed to ensuring the same quality of comprehensive healthcare.
"It's important that the work we do at WCH is also being done across the province," she says. "The victim in Kenora, gets the same care they would if they were anywhere else in the province. And when there are issues and concerns that arise, it's important that we're speaking in the same voice to ensure that all victims get access to service."
Macdonald adds that the atmosphere itself while delivering care to a victim for the first time is a great example of the Centre's universality of practice.
"Our spaces are quiet — we speak gently, at the pace of the person," she says. "We want to deescalate what may have been a chaotic, at times violent and frightening situation for victims, many of whom have experienced their assault only hours before."
Each centre provides items like a toothbrush, comb, shower facilities and change of clothing for the assault victim with the goal of compassionately countering the effects that the perpetrator has inflicted.
"Even though they may sound small, these things are so important when they may feel degraded, dirty and unworthy."
The SA/DVCC sees people coming from emergency rooms, physician referrals or direct walk-ins. Macdonald says the ability to provide equitable access to all those in need is a challenge her team will likely face on an ongoing basis. "
Toronto is a very multicultural, diverse community and that is the beauty of this city," she says. "But when it comes to providing services, making sure that we're meeting everyone's needs is something that always requires reassessment."
In particular Macdonald points to individuals who are vulnerable to being victimized because of complex mental health issues, marginalization and homelessness.
Macdonald acknowledges that there are certain populations more at risk of sexual assault, including new immigrants, women with disabilities, trans people and Indigenous women, and that the SA/DVCC is actively working with community partners to understand the intricacies of care each person may need.
"For us to help others we need to make sure that we are trained to be culturally sensitive," she says. "So in partnership with Rainbow Health, for example, we're developing training for the frontline nurses on trans healthcare. We're also working with the Indigenous Friendship Centres to enhance our understanding and knowledge of providing care to an Indigenous person who has experienced sexual assault."
Going forward, Macdonald says she has hopes that the SA/DVCC's mobile services will expand to community health centres, serving individuals who would generally avoid traditional emergency rooms.
She adds that one focus this year will be looking at where there are gaps in existing services, particularly in remote northern areas, and examining how to address these challenges. Whether that means establishing new specialized Centres or creating initiatives around online communication platforms, Macdonald says the hope is to better connect with victims in their own communities so that traveling far for help does not have to be part of the process.
"We just want to make sure that we're responding to the needs where they are," says Macdonald. "When this type of trauma happens, people don't know who to tell and they don't know where to go. I want the message to always be, 'you can talk to us, you're safe with us, and we're here to support you."