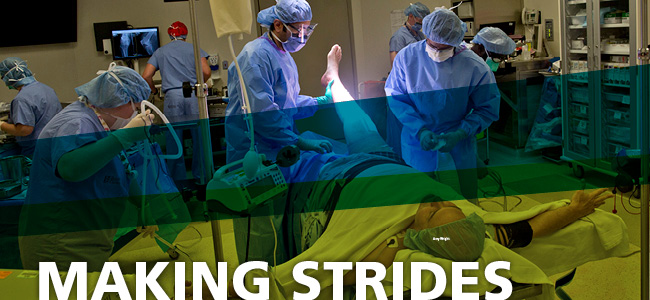 Photo: Lucas Oleniuk
Revolutionizing knee replacement surgery
By: Jaclyn Tersigni
Greg Nemez assumed he'd be in the hospital for a week following his knee replacement surgery. The 56-year old realtor from Mississauga had been struggling with severe pain resulting from ACL injuries and wear-and-tear that stemmed from competitive sports and a tackle football injury at age 15. He had reparative surgeries in the '70s and '80s, but in the last year, the discomfort became overwhelming.
He was relieved when he learned he could have the surgery within months. He was amazed when he found out his surgery would be a same-day experience, known as ambulatory surgery.
"I'd never heard of anything like it before," says Nemez. "When they said I'd be in and out in one day, I was shocked."
On April 9, Nemez became the fifth patient to participate in the day-surgery joint replacement program at Women's College Hospital (WCH). It's the first program of its kind in Canada, and one that promises to subvert the traditional model of joint replacement surgery, which sees patients stay in hospital for an average of four days, delaying their return to everyday life and costing the Canadian healthcare system close to $1 billion each year. The program will reduce healthcare costs and free up desperately needed hospital beds, while also improving the patient experience; patients will be able to heal in the comfort of their own home where, as research shows, they prefer to be.
The program is part of a WCH pilot project, whose mandate includes the development of innovative solutions to improve health services country-wide.
In 2017, Carlo and Angela Baldassarra made a significant donation to support surgical innovation. The funds supported the formation of a new working group comprised of various researchers, surgeons, anesthetists, nurses, physiotherapists and pharmacists that began looking for tangible ways to improve the healthcare system.
Dr. David Urbach is the surgeon-in-chief and medical director of perioperative services at the hospital. "The motivation was that we were trying to figure out where we could make a real difference in the health system," says Dr. Urbach. "We didn't necessarily set out saying, 'Oh, we need to work to improve joint replacement surgery.' Instead we said, 'What's happening out there? What's a common operation that uses beds in hospitals where we, as an ambulatory hospital, can be on the forefront of revolutionizing how healthcare is delivered?'"
What Dr. Urbach discovered, along with fellow group leader and orthopedic surgeon Dr. David Backstein and their team, was that joint replacement surgeries were the most common planned operations that landed patients in hospital beds unnecessarily for days following the procedure. More than 100,000 hip and knee replacement surgeries take place in Canada every year and, with patients staying an average of four days for knees and seven days for hips, the procedures are responsible for occupying a significant number of hospital beds that could be used to provide more care and shorten wait times.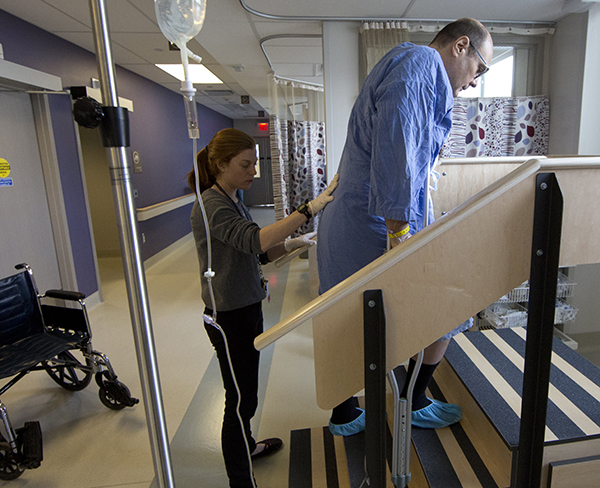 L-R: Gillian Grant, Greg Nemez, Photo Credit: Lucas Oleniuk
"Where we can make a big impact on the sustainability of the system is if we can allow hospitals to use their beds for people who are actually sick and need acute medical care. Those are the people who should be in those beds," Dr. Urbach says. "If you can preserve those hospital beds by taking care of everybody else in a different environment, then you've got all these extra resources in a system that's quite strapped and under stress."
As it turns out, a significant percentage of knee and hip replacement patients don't actually need active medical care following their procedure. What often keeps joint replacement patients in hospital is management of pain and nausea.
Establishing a model for ambulatory surgery meant that Dr. Urbach and the working group had to develop solutions for two challenges: First, how can patients get on their feet sooner while also staying comfortable? And second, how can their recovery be monitored and reassurance be provided in a non-hospital environment? To answer those questions, the group made site visits to a hospital in the U.S., where sameday joint replacement is routinely performed. "That reassured us that this can be done and that it can be done safely," Dr. Urbach says. They also investigated what the best practices were for anesthesia that would provide better pain management for patients, with less reliance on oral painkillers, so patients can recover more quickly in the comfort of their own home.
What they discovered was that anesthesia could play an important role in making same-day surgery possible. The surgical techniques of the resulting program are no different from those used in in-patient joint replacement surgery; what's innovative is how anesthesia is administered.
"It plays the central role for planning and managing the patient's perioperative experience — the before, during and after," says Dr. Richard Brull. Dr. Brull holds the Evelyn Bateman/Cara Operations Chair in Ambulatory Anesthesia at WCH and helped develop the anesthesia techniques used in the same-day joint replacement program.  Our role is the meticulous planning of each of those phases so that the patient is walking on the same day of their surgery and can go home."
In traditional inpatient surgery, patients are given long-acting anesthetics, such as morphine, to help manage the pain. As a result, patients are immobile for a longer period of time and can also struggle with the nausea that narcotics can induce.
"Minimizing pain and minimizing nausea go hand-in-hand, Dr. Brull says. "When the patient is given a routine anesthetic, pain is treated with morphine. Morphine causes nausea. What happens when they have nausea is we withhold the morphine and the pain. returns. It's a vicious cycle."
In the day surgery program, Dr. Brull's focus is keeping patients comfortable and making sure they can move following the procedure. "And not only that they can actually move physically, but that they don't have the side effects like dizziness or lightheadedness or that they're still woozy from their anesthetic," he says.
Dr. Brull begins by administering preventative local anesthetic. Nerve block injections are then used to prevent the sensation of pain travelling from the knee to the brain. The combination of nerve blocks and local anesthetics means patients have a numb knee, but full strength in their quadriceps and hamstrings. As for their alertness during the procedure, Dr. Brull works with each patient to ensure they're as conscious as they want to be. Patients aren't completely put under, but the level to which they're aware of the activity in the room can be customized.
"They asked me, 'Do you want to hear everything, see everything, what do you want to do?' and I said, 'I just want to be pretty mellowed out,'" Nemez says. "I was awake. I can remember saying a few words during the operation but I was kind of groggy."
Three hours after being wheeled out of the operating room, Nemez was taking his first steps up stairs, working with a physiotherapist. "I really didn't have a lot of pain in my knee," he recalls. "I had a greater range of motion than before I got to the hospital."
Shortly after that, he was on his way home.
But Nemez wasn't headed home to face recovery alone. Prior to the surgery, he was provided with a tablet equipped with an app that would help his care team monitor his progress in the hours and days after his procedure. This model of virtual care is the other tool Dr. Urbach and his team are using to make same-day discharge possible.
The app replicates and even improves upon some of the post-surgery care that patients typically receive in hospital. It provides reminders for when to take medication, it asks patients to report on their levels of pain and, most importantly, it connects patients with their healthcare team using video calls and text messages.
"I check in with the patient in the morning and in the evening with a video conference," says Dr. Dan Cornejo Palma, a surgical resident and PhD student at University of Toronto's Institute for Health Policy Management and Evaluation.
Dr. Cornejo Palma learned about the opportunity to develop a digital care component for the same-day joint replacement program through Dr. Urbach, his PhD advisor. He consulted on an existing communication and information sharing digital platform created by Ottawa-based Aetonix Systems, which has now become the app used by patients and healthcare providers in the joint replacement program.
"This is the future. It's a future where doctors are more connected, not less connected," Dr. Cornejo Palma says. Plus, using it is as simple "as a toaster."
Nemez's experience with the app was a positive one. "I loved the video calls. I showed my knee, they could see the progress, the swelling, the range of motion," Nemez says. "I felt confident. They were right there if I had any issues."
Dr. Urbach estimates that up to 50 per cent of joint replacement patients could be candidates for same-day surgery. If the model was replicated country-wide, the impacts could be monumental.
"Ultimately this is trying to be a force for good for the Canadian health system, so that we can be transformative, so that we can take the pressure off hospitals, and so that we can build a sustainable health system," Dr. Urbach says. For patients like Nemez, leaving the hospital mere hours after having a knee replaced was a very positive experience.
"I did not want to stay in the hospital. I'd rather be home, so I can get better faster," Nemez says. "I can see family and interact. It lets me be back in the swing of things."