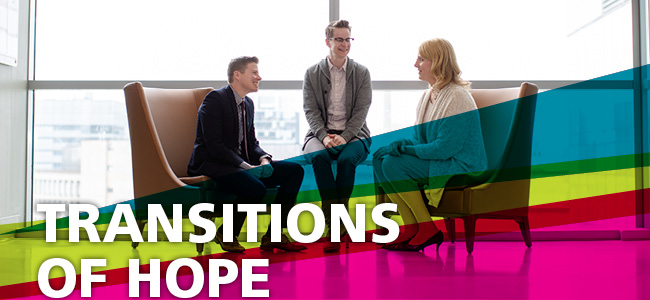 L-R: Cheryl Woodman, Emery Potter, Tamara Wiens
The first comprehensive Gender Transition healthcare program in Ontario
By: Jaclyn Tersigni
Tamara Wiens was in her mid-teens when she first realized there was something different about how she experienced her gender.
"It was the early '80s in rural southern Ontario. There wasn't a whole lot of access to information, and certainly no LGBTQ groups that I was aware of. There was really nothing informative to figure out who and what I was, and how I could move forward on that," Wiens, now 51, recalls. "It was something I suppressed for around 30 years."
It wouldn't be until 2012 that she came out to herself, and later, to others. Less than a year later, she had the gender-affirming surgeries that, after three decades, finally made Wiens feel like herself." I had been waiting 30 years to become me," she says.
"I had been waiting 30 years to become me," she says.
"It was remarkably transformative. It had a huge impact in terms of my self-image, in terms of my comfort with being in situations where the shape of my body impacts others' perceptions of me."
After deciding to move forward with transition surgeries, Wiens, who lives in Ottawa, only had to wait about four to five months before her procedures took place. But that's because she decided to pay for the surgeries herself; thanks to a well-paying job and savings, she was able to afford the approximate $50,000 cost. Had Wiens decided to seek OHIP funding, the process might have taken years.
Prior to the spring of 2016, trans Ontarians seeking OHIP-covered surgery faced a long and arduous process. First, join a waiting list of nearly 2,000 names for an assessment; then, months or years later, receive a referral for surgery and lastly, wait for the procedure(s) to take place at GRS Montréal, the only facility in Canada providing transition related genital surgeries, or travel to facilities as far away as Thailand. Furthermore, not all transition related surgeries are covered by OHIP.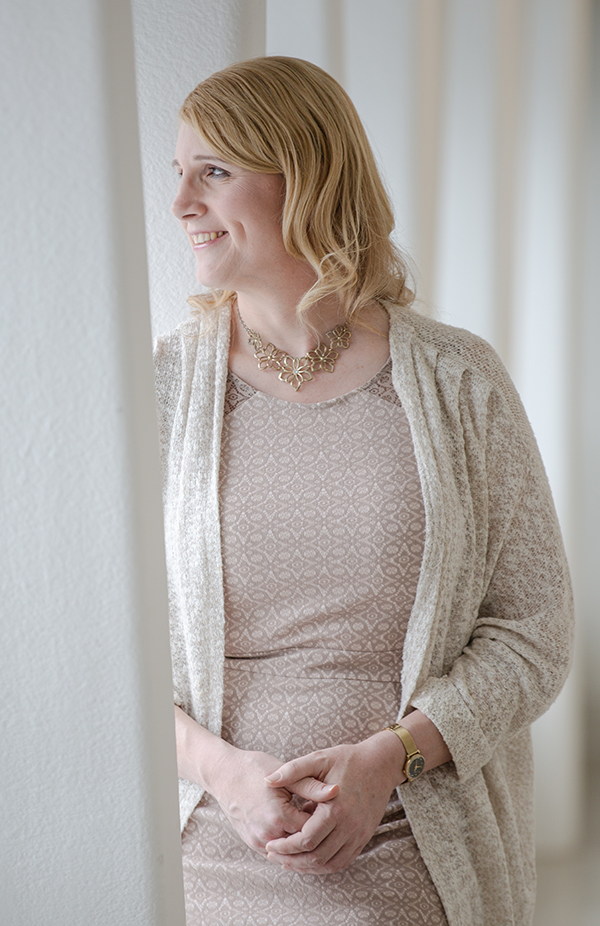 Tamara Wiens
For those awaiting surgery, the long wait times weren't a mere annoyance, they were deeply painful. Thinking about whether she could have chosen to wait for OHIP funding, Wiens says, "I would have been close to 50 before I had surgery. I would be in a situation where I'd have to live for years without feeling complete. I didn't want to go through that," Wiens says. "There are other people who, in the worst cases, have spent a decade waiting to get approval for surgery. I simply cannot imagine how damaging that would have been to me."
Things are changing. On March 1, 2016, the Ontario government expanded the referral system to allow qualified healthcare providers from across the province to provide referrals, and, in June 2017, another important announcement: Women's College Hospital (WCH) would become the hub of surgical services for gender- transition surgeries in Ontario, providing expanded access to various transition-related surgeries and becoming the second facility in Canada to provide genital surgeries.
What that means, in practice, is that Women's College Hospital will be home to an accessible, high-quality and comprehensive trans healthcare program unlike anything else in the country.
To build the program, Women's College has partnered with Sherbourne Health Centre (including Rainbow Health Ontario [RHO]), the Centre for Addiction and Mental Health (CAMH) and individuals from the community who act as consultants to form the Trans Health Expansion Partnership (THEx). THEx supports the expansion of health services for trans individuals in communities across the province, which includes the development of the Transition-Related Surgery (TRS) Program at WCH.
The TRS program officially opened its doors in October 2017. Currently available procedures include mastectomy, chest contouring, breast augmentation, oophorectomy (removal of ovaries), orchiectomy (removal of testicles), scrotoplasty, penile implant post phalloplasty, testicular implant, select surgical revisions and hysterectomy. In addition to the surgeries themselves, the program will offer a streamlined system for surgical referrals and will be rooted in a "client-engaged model of care," where patients are active partners in their healthcare journey.
"I can't convey how important this program is for people across Ontario and Canada," says Cheryl Woodman, chief strategy and quality officer at Women's College and current president of the Canadian Professional Association for Transgender Health (CPATH). "Trans and gender-diverse communities have been underserved across so many levels of healthcare."
In their role, Woodman is responsible for developing and implementing strategies that help WCH move the needle to close health gaps. For them, helping the hospital become a hub of trans care in Ontario has been a project of unique significance.
"This is a passion project for me. This impacts my community," Woodman says. "This is an area where there are huge inequities across the country in care and access, and in many cases, no services at all."
Long wait times for surgeries are only one such challenge. Health insurance coverage for medically necessary procedures related to transition varies from province-to-province. And trans people who live outside of major urban centres distances, for healthcare.
What underpins each of these challenges is an absence of what Woodman refers to as "culturally competent care" — services that promote and are rooted in respect, equity, safety and trust.
"These are invisible medical needs and they get minimized and often denigrated by those who are not living with those challenges," Wiens says. "It's easy to see a broken leg. It's easy to see measles. You don't see depression … You don't see gender dysphoria either."
Emery Potter knows this well. Potter recently joined WCH as a primary health nurse practitioner for the TRS program. Prior to Women's College, they worked at Sherbourne Health Centre for nearly 10 years and spent time administering primary care for LGBTQ and trans communities, as well as with RHO, providing training and mentorship on trans healthcare to healthcare providers across the province.
"The idea of this program is mind-blowing in so many ways. When I started working in trans healthcare 10 years ago, I never thought that a program like this would exist," Potter says. "Having worked in this field for so long and knowing all the gaps in the services for this community, and to now be creating a  program specifically designed to meet people's needs in a holistic way is incredible. What we are able to provide will truly be life-changing for trans people seeking care."
One of the most significant gaps in services has traditionally been access to healthcare providers that are both willing and trained to provide trans healthcare, such as hormone therapy and referrals to be assessed for surgery.
"When I first started working with RHO and going around the province, we were trying to get physicians mostly to start providing hormone therapy. To get their buy-in was extremely challenging," Potter says. "Although the organizing centre may have said, 'we have a commitment to equity and we want to be providing these services,' some physicians were really apprehensive about it."
Potter is hopeful that the TRS program will be able to address the unique gaps that exist in trans healthcare in Ontario, "from the initial challenge, which may be about assessment for surgery, to getting clinicians that are trained, are trans confident and are culturally sensitive."
Building the academic surgical department that enables the TRS program has been a priority for Women's College. The hospital has assembled a healthcare team that, in addition to Potter, includes leading gynecologists, plastic surgeons and urologists. To strengthen the skill sets required for some of the procedures in the TRS program — particularly vaginoplasty, a complex bottom surgery that is not traditionally taught in medical programs — the team is working with clinics and service providers in the U.S., engaging in peer-learning and best practice sharing.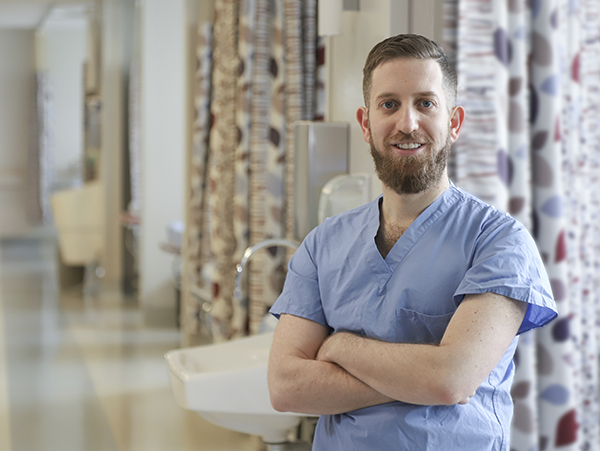 Dr. Yonah Krakowsky
Dr. Yonah Krakowsky is one of the Women's College surgeons making the trips for additional training. A urologist, sexual medicine surgeon and passionate trans care advocate, Dr. Krakowsky is the medical director for the TRS program. One of his hopes for the program is that it offers the equity and access that trans people navigating the healthcare system have often been denied in the past.
"When you deal with people who have struggled so much through the healthcare system and who haven't been treated with respect and dignity, it's even more important to create an environment where everyone will be treated with respect and treated fairly," Dr. Krakowsky says. "It's scary to think that we all start as babies and at some point in life people label us as 'other' and that changes everything in terms of how the world looks to you." Rectifying that failure for trans and gender diverse people in Ontario, but also across Canada, is what galvanizes Woodman.
"I feel proud to be part of this work. It is an opportunity to reimagine how healthcare can remedy itself to support healthy, resilient, and thriving trans communities," Woodman says. "Our leaders across Women's College Hospital are stepping up to drive a truly needed system solution that's going to translate into changing lives."
In partnership with the Toronto Pride and Remembrance Foundation and Women's College Hospital Foundation, a compassion fund has been established which will help offset the cost of select transition-related surgeries not covered by OHIP for eligible patients and travel expenses incurred for those having TRS at WCH. The out-of-pocket expenses incurred as a result of these surgeries can often have a devastating impact on people who may be already facing socio-economic challenges. The goal of this fund is to provide better access and support to trans people undergoing their transition- related surgeries at WCH.
In the fall of 2016, Wiens answered a call for community members to join the surgical committee of the Trans Health Expansion Partnership. Since then, she has made several trips from her home in Ottawa to Toronto and attends meetings by teleconference, lending her voice as someone with lived experience and helping to shape what the TRS program at Women's College will be.
"It's reassuring to see that there's a broader concern within healthcare to understand the needs of trans Ontarians," Wiens says. "I'm really happy to see what WCH is doing and the way they're doing it. They've shown a degree of concern for trans issues, for trans rights, for respectful and equal treatment of trans people, that's incredibly gratifying and still all too rare. It's a hopeful thing and I'm proud to be a part of it."