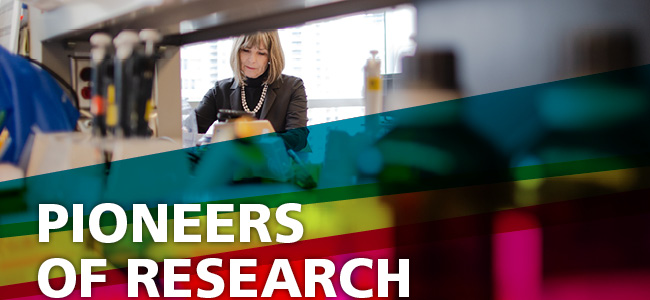 Dr. Paula Rochon
Canada's leading hospital research institute focused on women
By: Jessica Lockhart
The facts are startling.
Despite women presenting health conditions and responding to treatment different from men, their needs continue to be overlooked by health and medical research.
Each year, heart disease kills more women than men, but only 35 per cent of participants in heart disease studies are women. Many of the therapies and treatment protocols in use, including cardiovascular drugs, have been disproportionately studied on men. In fact, until the 1990s, women weren't even included in most healthcare and medical research studies.
Since then, advocacy has led to the inclusion of women in research, but a gender gap still exists; findings are rarely published in such a way that allows for the exploration of the differences between men and women, including the social, cultural and economic factors that affect health. The result is that the needs of women — particularly those in marginalized and disadvantaged communities — are often overlooked.
Researchers at the Women's College Research Institute (WCRI), at Women's College Hospital (WCH), are actively working to close this health gap. WCRI is one of the few research institutes worldwide dedicated to advancing the health of women.
"Our scientists consider issues of importance to sex and gender in their research," says Dr. Paula Rochon, vice president of research at WCH and a senior scientist at WCRI.
Dr. Rochon explains that this approach has allowed WCRI to fine-tune strategies and therapies. Over 200 scientists, trainees and research staff study issues with unique implications for women, including reproductive health, aging, arthritis, depression, diabetes and heart disease. Being based at WCH only serves to strengthen the quality of work being produced, with research being informed by their clinical practice and vice versa.
It's also one of the only research institutes where the majority of scientists are women.
"Encouraging women to pursue careers in science is not only the right thing to do, it's very useful," says Dr. Rochon, noting that only 22 per cent of Canadians working in science, technology, engineering and mathematics (STEM) are female. "When you have diversity in science, you have different perspectives and ways of seeing things, which adds a lot of value."
The value, in this case, is innovative research resulting in concrete change to both policy and practice, including the development of specialized care and education. In the last five years, WCRI has seen a 70 per cent increase in funding, allowing researchers to tackle their research through a gender lens. It's part of the reason why in 2017 WCH was named one of Canada's Top 40 research hospitals by Research Infosource Inc, outperforming many larger institutions on the list in several categories.
However, WCRI's focus on women doesn't just benefit patients — it also benefits the organization's staff.
Dr. Rochon says that mentoring and supporting the careers of women is a priority for WCRI. That's been the experience of Dr. Simone Vigod, a psychiatrist at WCH and scientist at WCRI.
"There's something to be said about a place that puts its money where its mouth is," says Dr. Vigod. "To be a woman researcher in a space where there is explicit attention to ensuring equity for women of diverse backgrounds is really important. It benefits both scientists like me and the research we do."