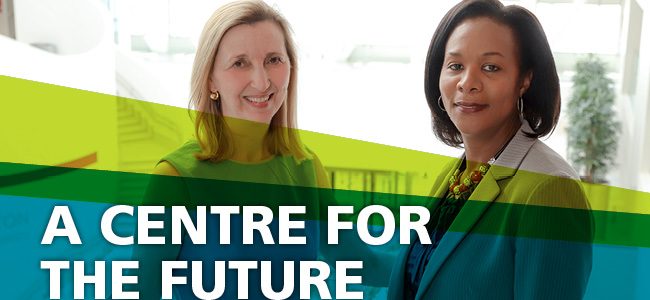 L-R: Dr. Ruth Heisey, Elaine Goulbourne
Innovative partnership focuses on research, treatment and survivorship of women's cancers
By: Andrea Janus
Suzanne Lima was diagnosed with breast cancer a decade ago. As a patient of Dr. Ruth Heisey – chief of family medicine and primary care at Women's College Hospital – she was already part of the healthcare system at WCH. That, along with her background in science and a friend in the healthcare sector, meant Lima had more knowledge than many patients about what lay ahead. Though scared, she was comforted knowing she had the best care available in the country.
As she went through treatment and after-care, she saw women who did not have the same advantages, who did not seem to have basic information about their disease or their treatment plan.
"That really opened my eyes," Lima says. "I was lucky enough to know the proper questions to ask to get the care that I needed, and my healthcare team at WCH respected my desire to be involved in my treatment plan. However, I was also seeing other women who did not have the same access to information that I had."
Through her own diagnosis, treatment, mastectomies and reconstructive surgery – as well as physiotherapy and other care – Lima always felt her healthcare team was on top of things. But the system still felt "piecemeal" back then, she says. And while things have improved, a major new initiative at WCH is now putting world-class research, treatment protocols and after-care support all in one place.
The Peter Gilgan Centre for Women's Cancers at WCH, in partnership with the Canadian Cancer Society is drawing together WCH's excellence in research, clinical care, innovation and education for women's cancers. It's then leveraging that knowledge across the country through the Canadian Cancer Society's national network with a goal to ensure equitable access of information, research and best practices across the country.
Mostly a virtual initiative, the Centre was established in 2017 through a joint $12 million investment from philanthropist Peter Gilgan and the Canadian Cancer Society (CCS) in an unprecedented collaboration.
"Strong and healthy families have always been at the core of my beliefs and values."
"Strong and healthy families have always been at the core of my beliefs and values," says Gilgan, founder of Mattamy Homes, the largest privately owned home builder in North America when the centre was launched. "When a wife, mother, daughter or sister is diagnosed with cancer, it is devastating. If I can play a small part and enable a collaboration that will leverage tremendous expertise, knowledge and reach, then I'm in," he states.
"The whole concept is very forward-thinking and innovative," says Dr. Ruth Heisey, the Centre's medical director, to "spread and scale our best practices across Canada."
As a family physician and the hospital's chief of family medicine and primary care, in addition to her time spent working with not-for-profit agencies, Dr. Heisey says it's clear to her that the Centre can "make a difference."
"WCH prides itself on being the hospital of the future and thinking differently about how we deliver healthcare," she says, adding that not all of women's medical needs are met in a doctor's office.
"So we didn't want to build a big bricks and mortar centre because we know that not everybody can come to us. Rather, we'd like to focus on virtually connecting with these women in more effective and far-reaching ways using technology enabled tools and programs to connect with women across the country."
Elaine Goulbourne, administrative director for the Centre, and also the hospital's director for clinical resources and performance, says the concept was born from internal conversations about how the hospital could integrate, and then share, all of the best practices it is renowned for. In particular in the areas of research, BRCA 1 and 2 genetic mutations, integrated clinical programs, innovation, education and empowerment.
"Everyone was really excited about this wonderful opportunity, with the vision of ensuring every Canadian woman has every chance to survive cancer, regardless of her location," Goulbourne says.
The centre has spent the last year laying important groundwork to address the gaps in cancer care for women and their families across Canada, and work is now underway establishing the many facets of the Centre's mandate. The centre's robust online presence will include portals for both care providers and patients in order to share the latest research and spread the hospital's best practices nationally, Goulbourne says.
Other initiatives will include conferences, courses and workshops for care providers, patients, families and other stakeholders, she says. Among new staff members being hired are a genetic counsellor, a social worker and a nurse practitioner who will serve as a navigator for patients as they make their way through the various periods of their care.
"We will always be changing and always evolving and always adding something new because research will be changing, technology will be changing, education will be changing, treatment and care will be changing, and we will definitely be on the edge to pivot with those changes and improve care," Goulbourne says.
As an example, she mentions the work the hospital will be doing in training prevention practitioners across Eastern Canada to create personalized preventative health prescriptions for women to reduce their risk of cancers.
"Those are the kinds of things we're thinking of," says Dr. Heisey. "How can we actually help women to not only live better with cancer, but how can we help them reduce their risk of cancer to begin with."