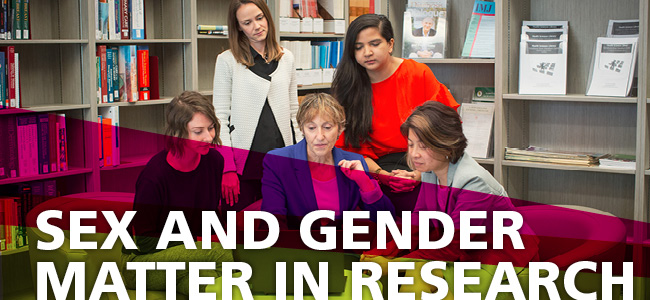 L-R: Amy Clare, Jordan Benadiba, Robin Mason, Nousin Hussain, Amy Hoang-Kim
Women's Xchange is leading the way
By: Anne Bokma
Women's College Hospital has a long history of firsts in addressing the health of women: the first hospital to use mammograms (1963), the first to open a walk-in birth control centre (1973) and the first to have a regional sexual assault centre (1984). Five years ago it achieved another first with the creation of the Women's Xchange, the only centre in the country that's exclusively dedicated to changing the shape of women's research with a sex- and gender-sensitive approach designed to reduce gender inequalities in healthcare.
It is increasingly evident that men and women experience health, access healthcare, and respond to therapies such as drug interventions in unique ways. Women have historically been excluded from participating in clinical research, primarily because of concerns that pregnancy and hormonal fluctuations could affect study outcomes. Even male mice have been preferred over female mice in the lab. This exclusion has had a detrimental effect on women's health, explains Dr. Robin Mason, the scientific lead of Women's Xchange. "What this means is that drugs that have been developed, or the dosage that is recommended for those drugs, are not always appropriate for women given their smaller bodies and different metabolism," she says, noting that the FDA's Office of Women's Health reports that women have nearly double the risk of developing an adverse drug reaction when compared to men. "Thankfully, we have become aware of the separate influences of sex and gender on health and how different individuals experience illness and react to medications and other treatments — that's why it's so important to integrate sex and gender perspectives into research."
Today, many researchers, policy makers and clinicians are looking for expert advice and support on how to use a more gender-sensitive approach in their work.
In addition to benefiting from a consultation service where they can get advice on their projects, researchers can also access an extensive library of resources that includes the recent addition of a series of seven online learning modules for students and researchers on how to introduce sex and gender into different research modalities. Women's Xchange has also developed a set of metrics that is being used to assess how sex and gender have been taken into consideration at every stage of a particular research study. "The hope is that we will build sufficient momentum so that journal editors will want papers to explicitly assess sex and gender in the research."
Women's Xchange runs a bi-annual competition where $15,000 grants are awarded to approximately 20 grassroots organizations dedicated to improving the health of women and girls. It's funded 134 projects involving 8,000 participants since its inception. These studies have focused on a vast array of health issues, from enhancing healthcare for marginalized sex workers to expanding post-abortion support, interventions for homeless women, sexual health services for women with psychiatric disabilities, colorectal cancer screening in new immigrant women and the impact of cyber shaming on young women. Many of these projects have made a tangible impact in their local communities. For example, a study that explored the negative health impacts of chemical exposure among nail salon workers received funding from the Ontario Ministry of Labour to hire health workers who delivered workshops on protecting your skin at work.
"It can be challenging for smaller community groups doing research to find sources of funding and we've been able to fund projects all over the province. The impact of these small grants has been absolutely amazing," says Dr. Mason.
Women's Xchange hosts two annual events to highlight these projects and create a forum for critical discussions on a wide variety of women's health issues, from the effects of precarious labour to healthy relationships in the #MeToo world. Attendees include graduate students, junior researchers, postdoctoral fellows, academics and the general public. "We are building this wonderful network of community members and researchers interested in women's health. We've connected with researchers at every level and from almost every university in the province," says Dr. Mason. "We want to do something about the deficit of women in the academic science stream and continue to develop a community of researchers."
All those $15,000 grants and the ongoing support offered to researchers dedicated to examining the impact of sex and gender in their work will ultimately lead to improved health outcomes for women and their families. "I truly believe that small changes can have significant impacts," says Dr. Mason, who channels the famous words of Margaret Mead: "Never doubt that a small group of thoughtful committed citizens can change the world. Indeed, it's the only thing that ever has."