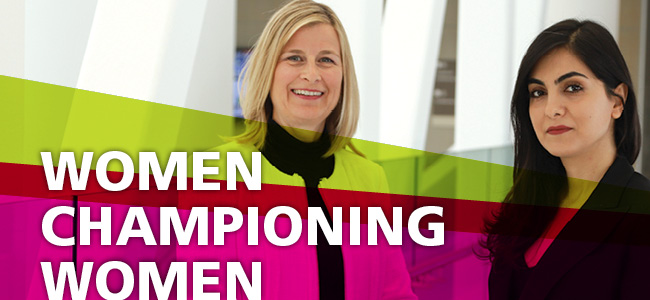 L-R: Wendy Daniels, Elle AyoubZadeh
How WCH's female philanthropists are impacting the future of healthcare
By: Anne Bokma
When women give, they give big. That's one of the findings of the TD Bank Report Time, Treasure, Talent: Canadian Women and Philanthropy, which reveals affluent women donate a bigger proportion of their assets to charity than men. And a life-changing event — a birth, a death or a health scare — is one of the biggest motivating factors that prompts a woman to give.
For female donors, opening their wallets starts with opening their hearts.
GIVING PROMINENCE TO PROGRAMS OF IMPORTANCE TO WOMEN
That's certainly true for Gail Regan, the 73-year-old retired vice chair of Cara Operations, which operates the Swiss Chalet, Milestones, Harvey's and Kelsey's restaurant chains. Her life-changing moment occurred during the stressful birth of her first child at Women's College Hospital in 1964: "I had no idea what I was in for. The pain was over the top." She was given Demerol, which temporarily affected her ability to speak properly and didn't help the pain. "The doctor realized the distress I was in and gave me an epidural. It felt as though I had been saved. That's when I knew this was an institution that really cares." At that time, Women's College Hospital was one of the only hospitals to routinely offer epidural pain relief to women in labour since there was still reluctance among obstetricians to do so.
That experience set Regan on the road to becoming a major contributor at WCH. She first became a member of the hospital board when she was just 34 (11 years later she would chair the board). Before this, her mother chaired the board in the 1960s and her grandmother also served as a volunteer. "My mother was a feminist as am I," she says, pointing out that unequal treatment of women extends to the healthcare system. "That's why it's so important to have a teaching hospital, which WCH is through its affiliation with the University of Toronto, that's well funded — so you can give prominence to programs of importance to women," she says.
She also points to the trailblazing work of psychiatrist Dr. Simone Vigod, lead of the Reproductive Life Stages Program at Women's College Hospital, whose research discoveries focus on optimizing outcomes for women with mental illness during the pregnancy and the postpartum period. Dr. Vigod's research has found that one in five women experience significant mental health issues during pregnancy, post-partum or early motherhood, making it one of the most common complications of childbirth. "Pregnancy and childbirth can make some women vulnerable and Dr. Vigod's research is raising much needed awareness among other medical practitioners and in the community," says Regan.
Over the past 50 years, Regan's family has donated approximately $5 million to WCH. "The hospital has been a big focus for my family," she says. One of her most significant donations supports a named chair position at the hospital — the Evelyn Bateman/Cara Operations Chair in Ambulatory Anesthesia and Women's Health. "WCH was inspired to be the best in the world when it comes to obstetrical anesthesia — and when you set that kind of standard, it is recognized around the world and this means more women will benefit," she says. "This has incredible implications because if a woman happens tohave a traumatic experience during childbirth the post-traumatic stress that can result could derail her for the rest of her life. WCH recognizes the burden women may face during their reproductive years, and is providing them with access to the care they need in order to be active participants. That's an initiative worth supporting."
Regan's legacy at WCH is an impressive one and includes more than 30 years of active board work, continuing through to her current membership on the WCH Foundation advisory council. "WCH has been part of my life from the time I was a young woman to becoming a senior citizen," she says. That early experience of a physician easing her pain in childbirth still resonates for her — and inspires her to keep on giving. "In my experience people are motivated to give because of an emotional experience. There are many grateful patients like me who have had an experience at WCH that has made them want to give."
SUPPORTING GROUNDBREAKING RESEARCH
Wendy Daniels, a retired financial services professional, experienced her reason to give at the hospital 21 years ago when her son Jack was born five weeks premature and delivered by emergency Caesarean section. "It was a very scary time but the medical staff were amazing and very reassuring," she says. The compassionate medical attention she received at this crucial juncture in her life is one of the reasons she chooses to support the hospital. "When you really feel the connection with an organization you want to take the bigger step."
That bigger step includes her recent appointment to the WCH Foundation development committee as well as a substantial donation to support the new Peter Gilgan Centre for Women's Cancers, an unprecedented new collaboration between WCH and the Canadian Cancer Society. Daniels is supporting the Centre because of its groundbreaking work in educating women on preventative measures they can take to keep themselves and their families healthy, and because it has a vision to transform care for women's cancers by sharing its research with healthcare facilities across the country. "I'm passionate about preventative medicine, and the work the Peter Gilgan Centre is doing goes beyond the walls of the hospital — it's about improving healthcare for all Canadians," Daniels says.
"WCH is changing the way healthcare is being delivered through initiatives such as virtual care, innovative patient electronic records and ambulatory care." Improved ambulatory (or outpatient) care is an issue that's close to Daniels' heart. Her mother died from diabetes complications when she was just 73 and was frequently in and out of hospitals. "It was difficult for her and I think she could have received better and more efficient care at home. The kind of care that WCH is leading now."
DRIVEN BY THE NEED TO MAKE A DIFFERENCE
Elle AyoubZadeh, the founder and creative director of Zvelle, a luxury web-based shoe company, which donates $10 to WCH for every pair of shoes it sells, cites the example of Dr. Emily Stowe as an inspiration for her charitable contributions at WCH. "I will never forget that the rights and opportunities that I take for granted today are because women like Dr. Stowe spoke up," she says. "I can't even begin to understand how hard she had to fight to get WCH started. Women like her inspire me."
It's because of women like Dr. Stowe that she enjoys the privileges she has today, including access to the healthcare WCH provides. "That's why I want to do what I can to make a contribution," says AyoubZadeh. "I really believe there's no other hospital like WCH in Canada — it's revolutionary and innovative in ways that many hospitals aspire to be. That's something I want to be part of."
There's no other hospital like WCH in Canada — it's revolutionary and innovative in ways that many hospitals aspire to be.
Her philanthropic efforts are driven by the need to make a difference. "I think businesses can have a positive impact in the world and I certainly want to do something positive with my company," she says. "That's why I give to WCH. I believe in the hospital and its staff. From the moment you enter the place it's as though you are enveloped with a sense of love. The building itself still has the essence of the woman who fought for this hospital all those years ago — Emily Stowe is still there."
There's no doubt Dr. Stowe would be proud of the influential female philanthropists such as AyoubZadeh, Regan and Daniels who are working to maintain her legacy of advancing healthcare for women at WCH.
AyoubZadeh says it best: "When women champion each other the world becomes a better place."