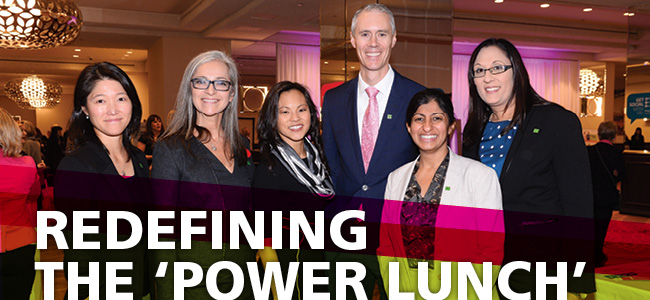 L-R: Cindy Emmerson, Laura Sousa, Jennifer Lang, Chris Knight, Sona Mehta, Aman Mander
Annual gathering packs a punch
By: Anne Bokma
This is one power lunch that packs a punch. Almost 1,000 corporate, philanthropic and community leaders gather every November in Toronto to learn, laugh, connect and contribute at Women for Women's — an influential annual luncheon and the signature fundraising event of the Women's College Hospital Foundation.
The punch? These luncheon attendees have helped raise over $3 million to advance research and programs at WCH since the event was first launched in 2011.
"I wanted businesswomen in the community to understand WCH's role in women's health research and become investors," says Colleen Moorehead, chief client officer at Osler, Hoskin & Harcourt LLP, one of the founders of the luncheon who also served as its co-chair for several years. "Canada needs a hospital that focuses on the health of women. We deserve it and WCH is delivering it."
Moorehead was inspired to get involved with WCH after her niece, Tracy, died of familial breast cancer at the age of 37, leaving behind aseven-year-old daughter. "It was my way of dealing with my grief," says Moorehead. "When something bad happens you have to grieve. But you can grieve and get angry or grieve and do something. I wanted to make a difference. I love the work I do with Women's College. It's something I'm proud of every day."
Women for Women's goes far beyond the usual delectable gourmet food and swag bag goodies of your typical fundraising luncheon. The event is billed as "a movement to save lives through the transformative power of conversation and philanthropy." That's because the event features acclaimed speakers and experts who share personal stories, and lead important discussions on key issues affecting women's health — from breast cancer to heart disease and healthy aging — and cutting-edge research taking place at WCH.
One of the unique aspects of the massive gathering is the opportunity for attendees to connect in an intimate way at their tables for conversation about pressing health issues. This has the thousands of attendees over the years taking better care of themselves and their families. "We talk about how we are there for our mothers, our daughters, our sisters and our friends," says Moorehead. "Some of these health issues affect us directly and certainly all of us have had the experience of them affecting the people close to us."
The events have featured such high profile speakers as Tony Award-winning actress Andrea Martin; TV personality Jeanne Beker; physician and TV host Dr. Marla Shapiro; and cancer survivor and broadcast journalist Libby Znaimer. JUNO singer-songwriter Serena Ryder and Olympic medalist Elizabeth Manley have both addressed their struggle with depression; international opera star Measha Brueggergosman, experienced a heart attack at age 31; and Globe and Mail reporter Amy Verner spoke about the life-changing diagnosis that revealed she carries the BRCA1 gene mutation.
WCH medical leaders also take to the stage to share their latest research, including experts such as Dr. Steven Narod, a world leader in the field of breast and ovarian cancer, and psychiatrist-in-chief Dr. Valerie Taylor, who is developing new models of virtual care that are positioning WCH as a world leader in bringing mental healthcare to women where and when they need it. Lately, the event has adopted a TedTalk style format and is focused on addressing key issues women are facing in their healthcare today.
"I don't think there's any other event like this. The energy in the room is incredible," says Marlene Cepparo, former co-chair. "When people leave the luncheon, they truly feel more informed about their health." Cepparo, who was born at WCH, also benefitted from the care the hospital provides when she experienced depression, and when she was diagnosed with breast cancer in 2014. "When I was depressed, they didn't just give me medication, I also received the therapy I needed and the whole experience made me a stronger person," says Cepparo. When she was being treated for breast cancer, she referred to her medical team at the hospital as her "guardian angels" and "super sleuths." The treatment she received affected her profoundly, she says. "When I would walk through the doors of WCH I felt safe, cared for — even loved."
Cepparo, the partner-in-charge of KPMG Canada's National Tax Centre, is proud that her firm has been the presenting sponsor of the Women for Women's luncheon since its inception. In fact, over the years, KPMG's corporate and individual employee donations to WCH total an impressive $1 million.
"This is something we really believe in."
"This is something we really believe in," says Cepparo. "KPMG is committed to reaching out to the community to make sure we are giving and making a difference."
This year's Women for Women's luncheon will be held Friday, Nov. 16 at the Sheraton Centre Toronto Hotel. Tickets can be purchased through the WCHF website at wchf.ca