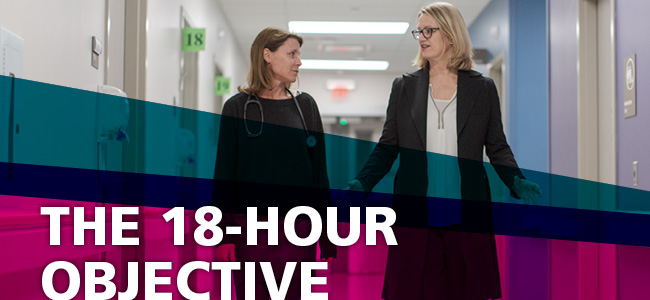 L-R: Heather McPherson, Dr. Tara O'Brien
Relieving ER congestion
By: Liz Beddall
"At WCH we often describe ourselves as 'the hospital designed to keep people out of hospital'," says Heather McPherson, executive vice-president of ambulatory innovation and patient care at Women's College Hospital (WCH).
It is a concept that McPherson says rings particularly true in the case of the facility's innovative Acute Ambulatory Care Unit (AACU) — a one-of-a-kind, short stay medical unit that provides urgent assessment, rapid diagnostics and management for patients with either acute or chronic health issues. The AACU has been designed to avoid unnecessary admissions into hospital beds or emergency departments and ensure patients are managed in the most coordinated and efficient way possible.
Boasting a highly skilled interdisciplinary team that includes physicians, nurse practitioners, social workers and pharmacists, as well as having access to diagnostic resources like medical imaging and cardiac testing, means the AACU is able to rapidly assess patients and deliver care within a maximum of 18 hours.
"It makes us think very differently because you can't keep someone for a longer period of time or can't admit them to an inpatient bed," McPherson adds. "It forces us to rapidly manage and coordinate an effective care plan."
Dr. Tara O'Brien, medical director of the AACU, manages the unit as both the operational leader and in her role as a physician. Day-to-day she provides care to the AACU's patients who are medically stable but have complex conditions.
"Usually the issues these patients have are multi-layered," she says. "Like an infection such as cellulitis or pneumonia coupled with other chronic conditions."
Dr. O'Brien remembers one patient who had been suffering from serious abdominal pain and had visited emergency departments a number of times prior. Before visiting the AACU, investigations into her symptoms hadn't resulted in any definitive information. Dr. O'Brien recalls that the day the patient arrived, her care was streamlined with same-day imaging and bloodwork. The symptoms unfortunately were the result of pancreatic cancer but the rapid diagnostic work up helped to optimize her treatment plan, including better pain management and alleviating her feelings of uncertainty by arranging urgent follow-up at Princess Margaret Hospital.
"The patients that use our services have been extremely satisfied with their care experience," adds Heather McPherson. "We are able to handle these complex cases –which would otherwise end up in an emergency room – and provide optimal and timely care that allows patients to return home. Our clinicians are able to take the time with each patient that may not be possible in an emergency room environment. This means better health outcomes and wiser use of system resources."
McPherson adds that, as a response to Toronto reaching a widely publicized, pressure-point situation with emergency room wait times and lack of inpatient beds, the AACU launched a highly successful initiative, called '5 Alpha' (Acute Ambulatory Assessment to Avoid Admissions). 5 Alpha has created an effective new clinical pathway for stable patients requiring general internal medicine consultations. These patients, who present at University Health Network's emergency room, are referred to WCH's AACU.
"The WCH AACU has had an important effect on our General Internal Medicine inpatient volumes," says Dr. Robert Wu, general internal medicine site chief at Toronto General Hospital. "We used to see regular increases of our admissions by about 5 per cent a year for the last decade. Our emergency physicians have since started referring patients directly to the AACU at Women's College, we have had little growth in admissions. The AACU's ability to manage acutely unwell but stable patients is very helpful to our service but also ensures appropriate useof our scarce healthcare resources."
McPherson also notes that the AACU sees between 15 to 20patients per day, many of whom have been referred from the more than 140 primary care physicians in the local community.
"This is an example of system redesign that demonstrates alternative thinking about resources in a system where capacities are either beyond the hours or beyond the complexities that primary care physicians can manage," says McPherson. "We're offering a solution that sits in the middle – between family physicians and emergency care – and delivers efficient, cost-effective and high quality care."
McPherson says WCH plans to expand this support service and envisions a future where the AACU includes a virtual care hub to facilitate care at home and in other community settings allowing patients another option before they head to the emergency room.
"Women's College Hospital looks at the healthcare system differently," says McPherson. "We offer new thinking and reexamine traditional models so we can improve healthcare and close the health gaps."